The Brain Child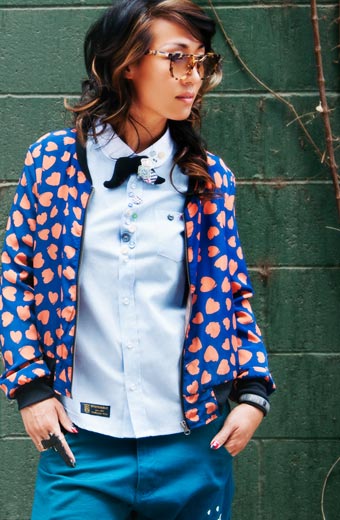 Through the fusion of her passions of music, dance and design, LA based designer Cheryl Koo strives to style the world through different avenues of art. She brings together a community beyond JUST fashion, but rather into her realm, where all forms of expression (fashion, art, music and dance) are intertwined to collaborate and create an experience that leads to a more unique end product. Contradiction is an on-going theme for Koo and this is apparent in her concepts and designs, exhibiting architectural structure against the flow of movement or modern art influences with textural contrasts. She enjoys creating an experience altogether when putting on a show, which is her main platform, that allows for the fusion of her passions that are evident in her creations.
Cheryl Koo's resume includes a Bachelors in Graphic Design from USC, an Associates in Fashion Design from Parson's School of Design, and working and interning at brands such as Triple5Soul, L.A.M.B., and Adidas Originals on both coasts (from Soho to Melrose). Fresh out of school, back to Los Angeles from New York, Koo debuted her very first collection at a dance showcase, and that was the beginning, as she then fell into her very own company: The Other Duck. The Other Duck's message is essentially the classic "Ugly Duckling" story we all hear as children. As we mature, we forget these basic, simple stories of life. Koo's interpretation of this story is that everyone is their own person, fearless and proud. It's about our individual journey to get to that point of self confidence and worth. It's about evolving and realizing that we do not have to conform to standards of beauty, because beauty, and ugly, is in the eye of the beholder.
Unlike other designers, Koo has the love and support of the dance community. This has allowed The Other Duck to have a global brand presence in countries like the United States, Canada, Japan, Taiwan, and Germany, amongst others. Top wardrobe stylists have dressed their clients in The Other Duck on "America's Best Dance Crew,""So You Think You Can Dance" (America and Scandinavia), the Mims "Like This" video, and the Cali Swagg District's "Teach Me How To Dougie" video.
Cheryl Koo is originally from Vancouver, Canada. She has been technically trained in dance since the age of 2, and when she is not designing apparel, she occasionally performs around the world. It is through dance that Koo draws her inspiration for design, and is what ultimately led to her to follow her dream of being a designer. She currently resides in Los Angeles.